Cockering Farm



COCKERING FARM: Temporary aerodrome used several times (Aka THANNINGTON WITHOUT)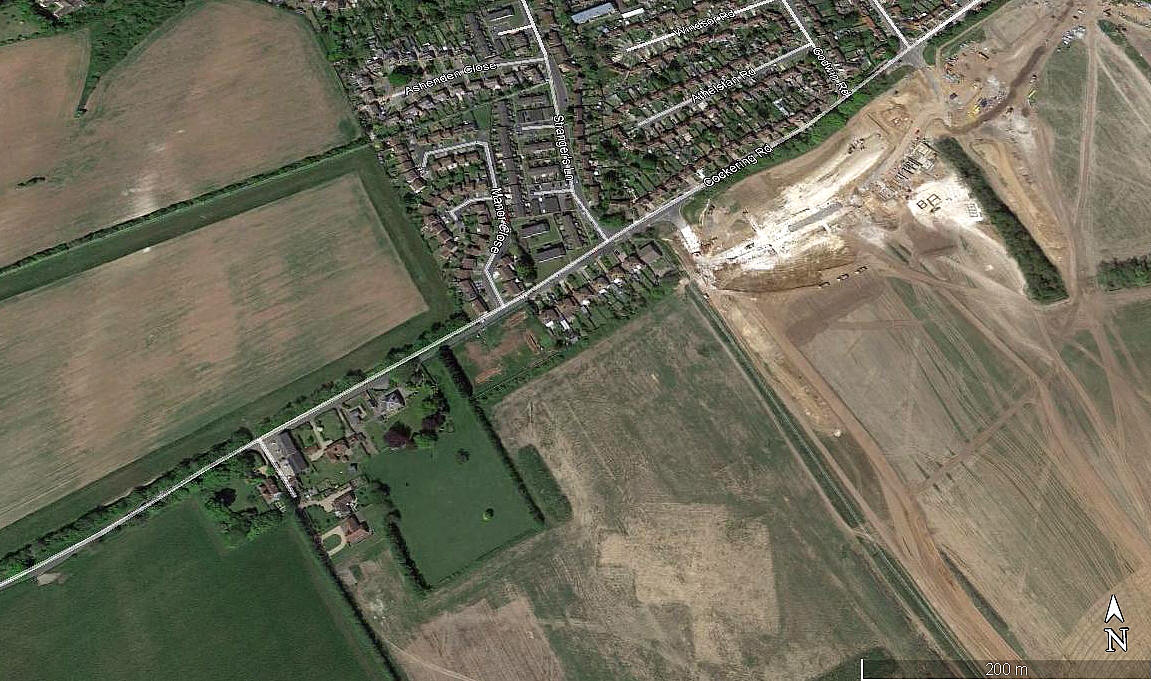 Aerial view 2017
Local area
Area view
Note: All three of these pictures were obtained from Google Earth ©
Location: Just S of the Cockering Road, just SW of the A2/A28 junction and about 1.5nm SW of Canterbury city centre

Period of operation. For short periods from 1929 to 1932


NOTES: For a long time I never expected to find a location for the Canterbury site used by the Alan Cobham enterprises. Then, in May 2020 Mr Michael Holder sent me a copy of an article he had found by John Viner, edited by Roger Cheeseworth in 2006 with acknowledgements to Mrs B Green, Mrs W Wood, Kentish Gazette and the Kent Aviation Historical Society. From which I will quote excerpts:

"The farm was owned by Mr Ashenden, the Canterbury auctioneer and estate agent who ran the farm as a hobby. In 1929 he was approached by the Alan Cobham Aviation Company with a request to use his front field, beside the road and the house, as the Canterbury venue of his aerial tour of the country."

My note: Trying to pinpoint many of the 107 venues he visited in 1929 is probably an impossible task - so what a treat to find this. Cobham zig-zagged all over the country with no obvious sense of a sensible plan. But of course there was no controlled airspace in those days, and what is a hundred miles when flying in straight lines. On the 11th August he visited Whitstable, SWINGATE at Dover on the 13th, BADDOW MEADS in Chelmsford (ESSEX) on the 14th. This was with the DH Giant Moth G-AEEV named 'Youth of Britain'.

"The Cockering Farm visit took place on 16th August, flights were five shillings a time." Many school children were flown for free, sponsored by Lord Wakefield who owned Castrol.

"The following year, 1930, it was the turn of National Flying Services. Their orange and black Giant Moth, G-AAAN, was at Cockering Farm for whole week: from Sunday April 27th until Sunday May 4th inclusive. This aircraft, once red and silver and called 'Geraldine' had previously seen service with the Daily Mail as a flying darkroom for rapid news gathering. National Flying Services acquired it in February and proudly advertised it in the Canterbury Press and Kentish Gazette as their 'saloon air taxi' in which passengers were offered 'perfect comfort' and an 'unrestricted view'."

But of course, control of advertising standards were a thing of the future!

"Again flights were from five shillings and admission to the field was free except for the Saturday when there were 'flying displays by famous exhibition pilots' and for which spectacular attraction adults were charged 6d." It would appear that trawling the inter-web, that average wages in 1930 were around £1.11.08p, so a flight was a very expensive option, and a 6 pence entrance fee quite a decent sum. But then again, probably comparable to a popular West End show in more recent times.

The article does make a rather odd claim, stating that 'Spartans were the mainstay of the nations pleasure flight trade' which is complete nonsense of course. Varieties of the Avro 504 were still the backbone of this field of endeavour.

However, the article does state that the by then 'Sir' Alan Cobham National Aviation Display Campaign visited this location in 1932.


A MOST INTRIGUING CONUNDRUM
The report article goes on to tell us: "He visited Bekesbourne Aerodrome near Canterbury but Cockering Farm was much closer to the city and much closer to the idea of "a landing ground of some description." City people would be more prepared to make the short walk to the farm than the longer trip to Bekesbourne. The circus's display was impressive and included crazy flying, parachuting, air-racing, aerobatics......." And so on.

But, on the 23rd May 1932 the venue was BEKESBOURNE aerodrome. It needs to be understood that Cobham was a manic workaholic and his National Aviation Day Display Tour did not include one day off for the crews from April 12th until 16th October. And, there is another very important factor to consider - all the posters for these displays had already been printed well in advance and posted around the town, arrangements made and adverts placed in newspapers.

No slack had been built into the schedule. The previous day they displayed at WEST MALLING aerodrome near Maidstone and the following day was St MARGARETS aerodrome near Dover. But - the distance between COCKERING FARM and BEKESBOURNE is only 4.5nm.

So - although I have never come across any mention of this ever happening, could it be that the Cobham planning team saw a rare opportunity to have two displays running in parallel? Much of the equipment was duplicated anyway as the ground crews leap-frogged across the country, and with WEST MALLING the day before and St MARGARETS the next, it would have been very easy to arrange. Extra equipment such as a PA system etc could have been hired in locally.

Also, as it was only a matter of a couple or so minutes for a display item to fly from one venue to the next. It seems to make so much sense and Cobham I am sure, would have relished the idea of getting 'double-bubble' revenue in a single day.

If anybody can kindly offer advice, this will be much appreciated.






We'd love to hear from you, so please scroll down to leave a comment!
---
Leave a comment ...
Copyright (c) UK Airfield Guide