Orsett flying sites
Note: This map only shows the position of Orsett within the UK.


ORSETT: Military Landing Ground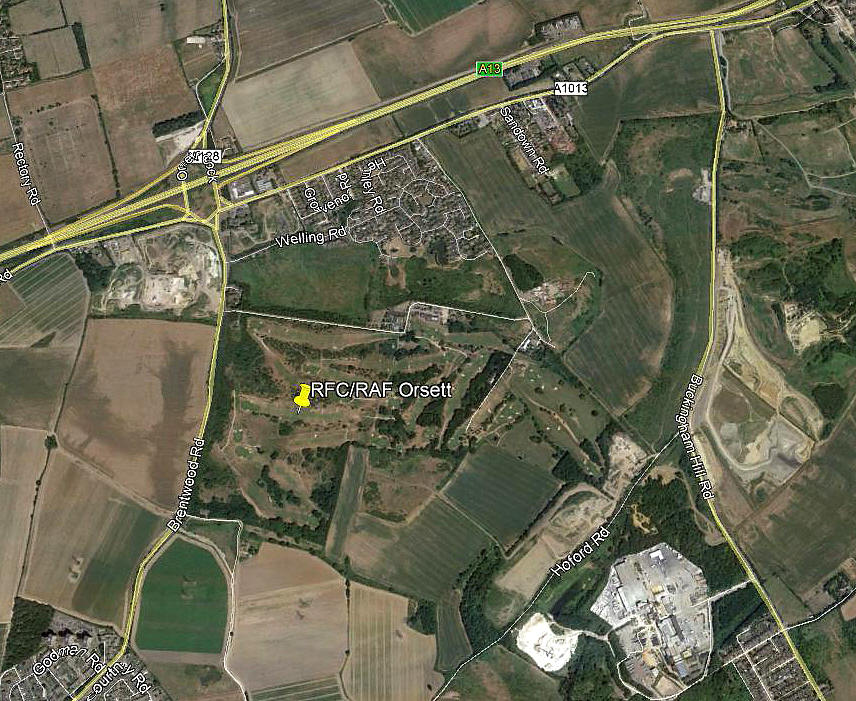 Aerial view 2018
Note: This picture was obtained from Google Earth ©
I was also very pleased to find that the Airfields of Britain Conservation Trust, (which has been a great help for this 'Guide'), also confirm the location of this airfield.
Military users: RFC/RAF (Royal Flying Corps / Royal Air Force)

39 [Home Defence] Sqdn (Royal Aircraft Factory B.E.2, B.E.12, S.E.5. Armstrong-Whitworth F.K.8 & Bristol F.2 Fighter)

75 [Home Defence] Sqdn (Royal Aircraft Factory B.E.2 & F.E.2. Avro 504K & Sopwith Pups)

Note: I have no idea if all these types might have used this NLG.

Location: SE of A13/A128 junction, just S of Southfields, about 3nm NNE of Tilbury
Period of operation: 1916 to 1919

Site area: 80 acres 594 x 475

NOTES: NLG (Night Landing Ground) for aircraft based at SUTTON'S FARM (HORNCHURCH)
ORSETT: Private helipad
Operated by: Nobby-Field Helicopters

NOTES: As mentioned elsewhere the ten-a-penny private helipads which add so much to UK aviation heritage today were pretty thin on the ground in the mid 1970s hence the inclusion of this site where it seems the Hiller UH-12C G-APDV was based. Nobby-Field Helicopters operated G-APDV from the 25th November 1970 until the 2nd November 1977.

Does anybody now know where this helipad was?
ORSETT: Private airstrip

Location: N of Lorkins Farm, NW of B188, 1nm N of Orsett, roughly 4nm NNE of Grays centre
Period of operation: 1980s only?

Note: Did this later become THURROCK?


NOTES: If anybody can kindly offer advice and information, this will be most welcome.
We'd love to hear from you, so please scroll down to leave a comment!
---
Leave a comment ...
Copyright (c) UK Airfield Guide